Volunteer Spotlight
Nicole Atkinson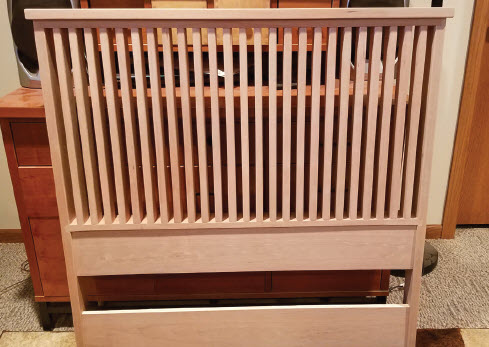 Nicole Atkinson has been a furniture engineer, furniture builder, and millwork project manager for 34 years. Fortunately, for the Burnham Block, she responded to a Facebook post to recruit new volunteers in 2013. During her training to become a new docent, it became known to the Burnham Block staff that Nicole had just the right talent and experience to create much needed replicas of Frank Lloyd Wright-designed furnishings.
Nicole started her career as a product engineer at the Buckstaff Company in Oshkosh, Wisconsin, which manufactured solid wood institutional furniture. While there, she started building furniture with the help of the skilled craftsman in the shop. Eventually, Nicole worked for Techline/Marshall Erdman and Associates where she developed an interest in Mr. Wright's work, especially his furniture designs. Prior to launching his furniture company, Erdman owned the construction company that built Mr. Wright's First Unitarian Society Meeting House in Madison in 1951 and several other Madison-area, Wright-designed homes.
Nicole has worked for other millwork companies like The Carlson Company, a manufacturer of fixtures for high-end retailers like Louis Vuitton and Barney's, and Wisconsin Built, maker of restaurant fixtures for Starbucks and Noodles.
Nicole attended 13 semesters of woodworking at Madison College and has been designing and building furniture in her own shop for over 30 years. In her spare time, she runs a cabinet re-facing business, has remodeled over 75 kitchens, and flipped eight homes by remodeling the kitchen cabinets and updating millwork.